China Apple Iphone Case Study Into China
The electronics industry is one of the largest sectors in the global economy and some experts estimate that the sector employs more workers and create more revenue than any other industry in the world. The US consumer electronics industry alone is worth more than $211 billion, and technology and electronics companies top the list of Forbes' ranking of the world's most valuable brands. It is an industry that is both immensely profitable and harshly exploitative, and nowhere is this more evident than in the supply chain of Apple Inc. In 2017, the company was worth an estimated $170 billion, making it the world's most valuable brand.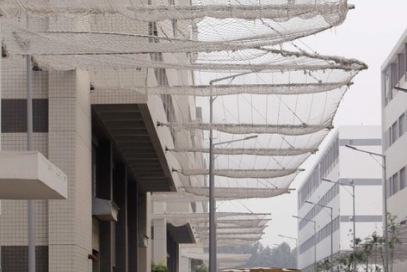 Foxconn, one of the Apple's largest suppliers, installed nets after a spate of suicides at its factories in China. Credit: Jason Lee, Reuters.
Despite the vast sums of money at the top of Apple's supply chain, the workers that make its products face a myriad of abuses: poverty wages, excessive and unpaid overtime well in excess of legal limits, long-term exposure to toxic chemicals without proper protective equipment, unsafe work environments including blocked and locked exits, intense psychological pressure, and the use of forced student labor. The long hours, extremely low pay, and high-pressure work environment led to a spate of suicides, beginning in 2010, by workers at Foxconn, one of Apple's most important suppliers. In the span of a year, there were at least 18 attempted suicides, resulting in at least 14 deaths. (Foxconn's shockingly cruel solution to this problem was to install nets around its buildings to prevent workers from jumping, demonstrating just how little the manufacturer and its customers cared about the conditions that workers faced). Between 2010 and 2012, another six workers were killed in explosions at iPad factories. According to reporting by the New York Times, Apple had been warned about the dangerous conditions inside at least one of the factories, but did nothing to prevent the deadly blast.
Amidst mounting pressure from consumers to address the problems in its supply chain, Apple joined the Fair Labor Association (FLA), a multi stakeholder initiative (MSI) that was originally founded to monitor conditions in the apparel industry but that has since expanded to other sectors, including footwear, sporting goods and agriculture. Although the FLA describes itself as an independent monitoring body, member companies play a significant role in the organization's governance and its funding. As a result, the FLA has an abysmal track record when it comes to improving conditions in the supply chain of its member companies and Apple was no exception. Mere days after beginning its inspection of Apple's largest supplier, Foxconn, the president of the FLA declared that the "facilities are first-class" and "Foxconn is really not a sweatshop." Recall that Foxconn is the same supplier in which more than a dozen workers committed suicide just two years earlier, and where three workers had been killed in a factory explosion the prior year.
Six weeks after Apple announced that the FLA would be investigating its supply chain, the FLA published a report detailing a number of egregious abuses, many of which were also violations of Chinese law. It's worth noting here that virtually all of these findings had previously been reported by independent investigators that Apple had simply chosen to ignore. Although Apple, Foxconn and the FLA publicly committed to fixing the violations, outside assessments showed little improvement. An independent evaluation of the FLA's own reporting showed the following:
Apple and its suppliers failed to implement changes to workers' pay, including compensation for unpaid overtime and adoption of a wage that would cover workers' basic needs. During the same time period, Apple reported earning nearly $50 billion in profits;
Despite promises to the contrary, workers in Apple's supply chain in China continued to work overtime hours in violation of legal limits;
The promise to "establish a genuine voice for workers" was never fulfilled;
Although Apple promised that "the FLA's assessment will cover facilities where more than 90 percent of Apple products are assembled," the FLA's reporting covered less than 20% of workers in Apple's supply chain; and
Outside data demonstrated that serious labor rights abuses were continuing throughout the company's supply chain.
It should come as no surprise that workers benefitted very little from Apple's participation in the FLA. As is frequently the case with a brand's decision to join an MSI, Apple approached the FLA not out of a genuine concern for the workers' in its supply chain (Apple had known about egregious abuses at its factories for years), but out of a desire to repair the damage being done to its brand, the most valuable in the world. In exchange for its less-than-critical reporting, the FLA received a sizable fee. Unfortunately, this quid-pro-quo arrangement is all too common in the world of MSI's, where, absent serious and meaningful changes to structure, governance, enforcement and funding, respect for workers' rights will always be an afterthought instead of a reality.
In recent years, public attention has waned but workers continue to report serious human rights abuses in Apple's supply chain. See, for example, the following reports: Apple still has miles to go despite the recent toxins ban, Apple making big profits but Chinese workers' wages on the slide, and Blood and Sweat Behind the Screen of iPhones – Another Investigative Report on Apple's Largest Display Screen Supplier.
It may matter, because iPhones went on sale in China in 2009 amid frenzied scenes. By 2011, it was the smartphone of choice for China's smart set, and arguably "renowned" in China. The purchase date of the trademark raised questions about the good faith of the Chinese company, some lawyers said.
"It is a moral argument," Matthew Dresden, a lawyer with Harris Moure in Seattle who specializes in Chinese intellectual property law, said in a telephone interview.
"But the company that filed for it in 2007 must have known what they were doing then, too," Mr. Dresden added.
Still, the issue of intent and when Xintong Tiandi acquired the trademark may not affect the ultimate outcome of the case, Mr. Dresden said. Apple has said it will appeal to the Supreme People's Court.
Whatever rights the Russian company had or didn't have are what Xintong Tiandi bought, Mr. Dresden said. "For better or worse that's what they purchased," he added. "In the logic of how the Chinese trademark system works, it makes sense that it should be viewed as what was the state of the world at the time that it was filed."
"I don't see this as the Chinese court being biased; I see it as them enforcing the trademark law as it is currently implemented," Mr. Dresden wrote later in an email.
Here's the wild-goose chase: Calls to the Beijing Higher People's Court seeking clarification on the ruling went unanswered over the course of a recent afternoon, and no fax number could be located for the court.
A person answering the telephone at the media office of the State Administration for Industry and Commerce, which oversees the Trademark Review and Adjudication Board that first ruled in favor of Xintong Tiandi in the case in 2013, berated a reporter who said she was from The New York Times: "What question do you have? Can you speak?" When the reporter said she had been unable to send a fax to the office, the man said: "I only heard the fax machine beeping; how would I know who that was from and what it was about?"
When the reporter said she may file a complaint for rudeness, he replied: "You said you want to file a complaint, go file a complaint!" The man hung up without giving his name.
Mr. Xiong, Xintong Tiandi's lawyer, explained the omission of the Russian ownership detail thus: The court was not obliged to recap the entire history of the case in the ruling.
He rejected what he said were unfair remarks by "some foreign media" that the court's decision showed the Chinese judicial system was not to be trusted. "Fairness cannot be judged based on whether one has won or lost, but should be based on whether there are problems in the procedures," Mr. Xiong said.
It's not the first time that Xintong Tiandi has clashed with Apple over trademarks. Apple had "prevailed in several other cases against Xintong" for similar issues, Carolyn Wu, an Apple spokeswoman, said in a statement.
Mr. Dresden's conclusion is robust: Companies need to do more to protect themselves in China, even buying the trademark rights for all 45 classes.
Whether that's a stumbling block or a solution, readers can decide.
Continue reading the main story