Nyc Council Committee Assignments Hillary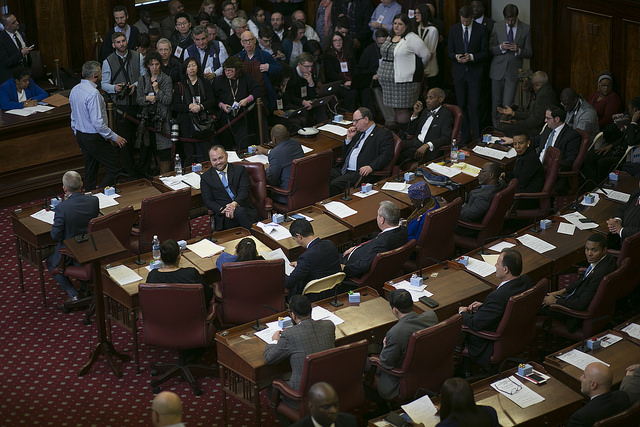 City Council chambers (photo: William Alatriste/City Council)
---
New City Council Speaker Corey Johnson, a Manhattan Democrat, outlined his leadership team and Council committee chair and membership assignments on Thursday. Johnson named Brooklyn Council Member Laurie Cumbo, a close ally and friend, as Majority Leader. Majority Whip will be Council Member Fernando Cabrera of the Bronx; the Democratic Conference Chair, a new position, will be filled by Brooklyn Council Member Robert Cornegy, Jr.; Brooklyn Council Member Rafael Espinal, Jr. will fill another new role, that of Deputy leader for Digital Communication; and Brooklyn Council Member Brad Lander will keep his role as Deputy Leader for Policy.
There are another roughly dozen members of the leadership team as announced by Johnson. He also announced that Brooklyn Council Member Carlos Menchaca will lead the expansion of participatory budgeting across the Council, where members choose to implement the program.
Staten Island Council Member Steve Matteo was already voted Minority Leader in the three-member Republican conference, with Council Member Joe Borelli, also of Staten Island, as Minority Whip, both reprising roles from last session. Borelli was also named to chair the new Committee on Fire and Emergency Management, which is being broken away from what was the Committee on Criminal Justice and Fire.
Top committee chair posts are going to Johnson allies and members of the Bronx and Queens delegations after those two Democratic county party machines backed him for speaker, decisively helping him attain the position. Johnson had also secured support from nearly a dozen members from Manhattan, Staten Island, and Brooklyn, he has said, to help convince the Bronx and Queens party leaders -- Assemblymember Marcos Crespo and Congressional Rep. Joe Crowley, respectively -- to give him their support and the Council member votes that come with it.
The two most powerful and prestigious Council committees will be chaired by Bronx Council Member Rafael Salamanca, who will lead the Committee on Land Use, and Queens Council Member Danny Dromm, who will lead the Committee on Finance.
Brooklyn Council Member Robert Cornegy, Jr., who previously declared himself the runner-up in the speaker race, will chair the Committee on Housing and Buildings. Johnson named Bronx Council Member Ritchie Torres to lead the Committee on Oversight and Investigations, which Johnson has pledged to beef up in an effort to more acutely hold the mayoral administration accountable.
Other top committee posts include: Queens Council Member Donovan Richards as chair of the Committee on Public Safety; Brooklyn Council Member Mark Treyger as chair of the Committee on Education; Manhattan Council Member Keith Powers as chair of Criminal Justice; and Queens Council Member Rory Lancman as chair of the Committee on the Justice System. Manhattan Council Member Mark Levine, who was in the running for speaker, will chair the Health Committee, previously chaired by Johnson.
Several Council members are retaining committee chair positions, including Manhattan Council Member Ydanis Rodriguez as chair of the Committee on Transportation and Steven Levin as chair of the Committee on General Welfare.
As the crisis of the Council's gender imbalance continues to get more attention -- there are just 11 women in the Council's 51 seats -- Manhattan Council Member Helen Rosenthal will chair the Committee on Women's Issues.
Along with the new fire and emergency services committee, other new committees include a Committee on Hospitals, to be chaired by Manhattan Council Member Carlina Rivera; and the Committee on For-Hire Vehicles, to be chaired by Bronx Council Member Ruben Diaz, Sr.
Notably, Bronx Council Member Fernando Cabrera will chair the Committee on Governmental Operations, taking over from Manhattan Council Member Ben Kallos, who will remain on the committee. Kallos was roundly praised for his leadership of the committee over the prior session, both as a reformer and for holding accountable relevant agencies, like the Board of Elections.
A full list of committee chairs and members, which passed the rules committee and still need to be approved by the full Council:
Aging
Margaret Chin, Chair
Diana Ayala
Chaim Deutsch
Ruben Diaz, Sr.
Danny Dromm
Mathieu Eugene
Debi Rose
Mark Treyger
Paul Vallone
Civil and Human Rights
Matheiu Eugene, Chair
Danny Dromm
Ben Kallos
Brad Lander
Bill Perkins
Ydanis Rodriguez
Helen Rosenthal
Civil Service and Labor
I. Daneek Miller, Chair
Adrienne Adams
Danny Dromm
Andy King
Alan Maisel
Eric Ulrich
Jumaane Williams
Consumer Affairs
Rafael Espinal, Chair
Margaret Chin
Peter Koo
Karen Koslowitz
Brad Lander
Contracts
Justin Brannan, Chair
Inez Barron
Bill Perkins
Helen Rosenthal
Kalman Yeger
Criminal Justice Services
Keith Powers, Chair
Alicka Ampry-Samuel
Robert Holden
Rory Lancman
Carlina Rivera
Cultural Affairs
Jimmy Van Bramer, Chair
Joe Borelli
Laurie Cumbo
Karen Koslowitz
Francisco Moya
Economic Development
Paul Vallone, Chair
Adrienne Adams
Inez Barron
Robert Cornegy, Jr.
Peter Koo
Brad Lander
Mark Levine
Carlos Menchaca
Keith Powers
Donovan Richards
Carlina Rivera
Helen Rosenthal
Jumaane Williams
Education
Mark Treyger, Chair
Alicka Ampry-Samuel
Inez Barron
Joe Borelli
Justin Brannan
Andrew Cohen
Robert Cornegy, Jr.
Chaim Deutsch
Danny Dromm
Barry Grodenchik
Ben Kallos
Andy King
Brad Lander
Steven Levin
Mark Levine
Debi Rose
Rafael Salamanca, Jr.
Eric Ulrich
Environmental Protection
Costa Constantinides, Chair
Rafael Espinal, Jr.
Steven Levin
Carlos Menchaca
Donovan Richards
Eric Ulrich
Kalman Yeger
Finance
Danny Dromm, Chair
Adrienne Adams
Andrew Cohen
Robert Cornegy, Jr.
Laurie Cumbo
Vanessa Gibson
Barry Grodenchik
Rory Lancman
Steven Matteo
Francisco Moya
Keith Powers
Helen Rosenthal
Jimmy Van Bramer
Fire and Emergency Management
Joe Borelli, Chair
Alicka Ampry-Samuel
Justin Brannan
Fernando Cabrera
Alan Maisel

For-Hire Vehicles
Ruben Diaz, Sr., Chair
Joe Borelli
Costa Constantinides
Francisco Moya
Debi Rose
Ydanis Rodriguez
Paul Vallone

General Welfare
Steven Levin, Chair
Adrienne Adams
Diana Ayala
Vanessa Gibson
Mark Gjonaj
Barry Grodenchik
Brad Lander
Antonion Reynoso
Rafael Salamanca, Jr.
Ritchie Torres
Mark Treyger

Governmental Operations
Fernando Cabrera, Chair
Ben Kallos
Alan Maisel
Bill Perkins
Keith Powers
Ydanis Rodriguez
Kalman Yeger

Health
Mark Levine, Chair
Alicka Ampry-Samuel
Inez Barron
Mathieu Eugene
Keith Powers

Higher Education
Inez Barron, Chair
Laurie Cumbo
Robert Holden
Ben Kallos
Ydanis Rodriguez

Hospitals
Carlina Rivera, Chair
Diana Ayala
Mathieu Eugene
Mark Levine
Alan Maisel
Francisco Moya
Antonio Reynoso

Housing and Buildings
Robert Cornegy, Jr., Chair
Fernando Cabrera
Margaret Chin
Rafael Espinal, Jr.
Mark Gjonaj
Barry Grodenchik
Bill Perkins
Carlina Rivera
Helen Rosenthal
Ritchie Torres
Jumaane Williams

Immigration
Carlos Menchaca, Chair
Danny Dromm
Mathieu Eugene
Robert Holden
Mark Gjonaj
I. Daneek Miller
Kalman Yeger

Justice System
Rory Lancman, Chair
Andrew Cohen
Alan Maisel
Debi Rose
Eric Ulrich

Juvenile Justice
Andy King, Chair
Inez Barron
Mark Gjonaj
Robert Holden
Mark Levine
Bill Perkins
Jumaane Williams

Land Use
Rafael Salamanca, Jr., Chair
Adrienne Adams
Inez Barron
Costa Constantinides
Chaim Deutsch
Ruben Diaz, Sr.
Vanessa Gibson
Barry Grodenchik
Ben Kallos
Andy King
Peter Koo
Rory Lancman
Steven Levin
I. Daneek Miller
Francisco Moya
Antonio Reynoso
Donovan Richards
Carlina Rivera
Ritchie Torres
Mark Treyger

Mental Health, Disabilities and Addiction
Diana Ayala, Chair
Alicka Ampry-Samuel
Fernando Cabrera
Robert Holden
Jimmy Van Bramer

Oversight and Investigations
Ritchie Torres, Chair
Ben Kallos
Rory Lancman
Keith Powers
Rafael Salamanca, Jr.
Mark Treyger
Kalman Yeger

Parks and Recreation
Barry Grodenchik, Chair
Joe Borelli
Justin Brannan
Andrew Cohen
Costa Constantinides
Mark Gjonaj
Andy King
Peter Koo
Francisco Moya
Eric Ulrich
Jimmy Van Bramer

Public Housing
Alicka Ampry-Samuel, Chair
Diana Ayala
Laurie Cumbo
Ruben Diaz, Sr.
Mark Gjonaj
Carlos Menchaca
Donovan Richards
Rafael Salamanca, Jr.
Ritchie Torres
Mark Treyger
Jimmy Van Bramer

Public Safety
Donovan Richards, Chair
Justin Brannan
Fernando Cabrera
Andrew Cohen
Chaim Deutsch
Vanessa Gibson
Rory Lancman
Carlos Menchaca
I. Daneek Miller
Keith Powers
Ydanis Rodriguez
Paul Vallone
Jumaane Williams

Rules, Priveleges and Elections
Karen Koslowitz, Chair
Adrienne Adams
Margaret Chin
Robert Cornegy, Jr.
Rafael Espinal, Jr.
Vanessa Gibson
Corey Johnson
Rory Lancman
Steven Matteo
Ritchie Torres
Mark Treyger

Sanitation and Solid Waste Management
Antonio Reynoso, Chair
Fernando Cabrera
Chaim Deutsch
Rafael Espinal, Jr.
Paul Vallone

Small Business
Mark Gjonaj, Chair
Diana Ayala
Steven Levin
Bill Perkins
Carlina Rivera

Standards and Ethics
Steven Matteo, Chair
Margaret Chin
Vanessa Gibson
Karen Koslowitz
Steven Levin

State and Federal Legislation
Andrew Cohen, Chair
Robet Cornegy, Jr.
Rafael Espinal, Jr.
Karen Koslowitz
Ydanis Rodriguez
Technology
Peter Koo, Chair
Robert Holden
Brad Lander
Eric Ulrich
Kalman Yeger

Transportation
Ydanis Rodriguez, Chair
Fernando Cabrera
Costa Constantinides
Chaim Deutsch
Ruben Diaz, Sr.
Rafael Espinal, Jr.
Peter Koo
Steven Levin
Mark Levine
Carlos Menchaca
I. Daneek Miller
Antonio Reynoso
Donovan Richards
Debi Rose
Rafael Salamanca, Jr.

Veterans
Chaim Deutsch, Chair
Justin Brannan
Mathieu Eugene
Alan Maisel
Paul Vallone

Women's Issues
Helen Rosenthal, Chair
Diana Ayala
Laurie Cumbo
Ben Kallos
Brad Lander

Youth Services
Debi Rose, Chair
Justin Brannan
Margaret Chin
Mathieu Eugene
Andy King

SUBCOMMITTEES

Capital Budget
Vanessa Gibson, Chair
Barry Grodenchik
Steven Matteo
Helen Rosenthal
Keith Powers

Landmarks, Public Siting and Maritime Uses
Adrienne Adams, Chair
Inez Barron
Peter Koo
I. Daneek Miller
Mark Treyger

Planning, Dispositions and Concessions
Ben Kallos, Chair
Chaim Deutsch
Ruben Diaz, Sr.
Andy King
Vanessa Gibson

Zoning and Franchises
Francisco Moya, Chair
Costa Constantinides
Barry Grodenchik
Rory Lancman
Steven Levin
Antonio Reynoso
Donovan Richards
Carlina Rivera
Ritchie Torres
Tags: City Council • Corey Johnson
Committee chairmanships for the newly elected City Council were announced Wednesday, with a lawmaker viewed as a relative moderate winning the coveted Land Use Committee, which approves development projects.
The committee (the full list of assignments is below) went to Brooklyn Councilman David Greenfield. He has not had many major development projects in his Borough Park-based district since assuming office in 2010, but real estate industry officials said they expected him to listen to their concerns.
"We look forward to working with Council Member Greenfield in his new role as Chair of the Council's Land Use Committee. We have every expectation that he will be diligent and fair in helping to focus the committee on the important issues facing the city, including creating more good jobs and housing for all New Yorkers," said Steven Spinola, president of the Real Estate Board of New York, in a statement. His organization led the industry's efforts last year to elect a pro-business council through a political action committee that spent more than $8 million.
article continues below advertisement
The Land Use panel has veto power over the Department of City Planning's rezoning proposals. Mayor Bill de Blasio and Council Speaker Melissa Mark-Viverito are promising big changes in development policy, most notably the implementation of a mandate forcing developers build to affordable housing in areas of the city that are rezoned. It's unclear whether Mr. de Blasio will be able to implement that policy unilaterally or if it must go through the council. Mr. Greenfield could not immediately be reached for comment.
Queens Councilwoman Julissa Ferreras won the other major chairmanship, that of the finance committee, which oversees the budget process. During her first term, Ms. Ferreras was the council's major player in the development of Willets Point in Queens, which is in her district. After concessions were demanded and won by the councilwoman, the plan was approved by the council last fall.
Ms. Ferreras and other members of the council's labor-affiliated Progressive Caucus landed many of the top assignments handed out Wednesday. Queens Councilman Jimmy Van Bramer was named majority leader. Greenfield's appointment can be traced to Brooklyn Democratic leader Frank Seddio, a close ally of Mr. Greenfield's; Mr. Seddio partnered with the Progressive Caucus to line up enough votes to elect Ms. Mark-Viverito speaker.
Manhattan Councilman Daniel Garodnick, who finished second in the council speaker race, will assume the chairmanship of the economic development committee. He replaces Queens Councilwoman Karen Koslowitz, and one economic-development insider said they expected Mr. Garodnick to take a more active role in overseeing the city's Economic Development Corp.
The committees were handed out through a largely behind-the-scenes process that rewarded Ms. Mark-Viverito's allies during the speaker bid. At the same time, Ms. Mark-Viverito is promising reforms that would empower individual council members and committee chairs. Minority Leader Vincent Ignizio, who did not initially support Ms. Mark-Viverito's speaker candidacy, praised her efforts so far. "She has made a deliberate attempt to reach out to every member," Mr. Ignizio said at a hearing Wednesday morning.
Still, other council members have expressed concern about the lack of transparency in assigning the committee chairs, and two of the body's 51 members voted against approving them. The positions come with annual stipends ranging from $8,000 to $25,000.
Queens Councilman Mark Weprin, who was one of the leading candidates for speaker, will continue to chair the subcommittee on Zoning and Franchises. A committee charged with overseeing the redevelopment of Lower Manhattan—created in the wake of 9/11—was eliminated. Instead, the speaker formed a new committee focusing on "sustainability" in the aftermath of Superstorm Sandy.
Full list of City Council committees:
Council leadership
Van Bramer
Garodnick
Gentile
Rose
Torres
Vacca
Williams
Lander
Ignizio (Minority Leader)
Aging
Chin, Chair
Arroyo
Koslowitz
Rose
Deutsch
Treyger
Vallone
Civil Rights
Mealy, Chair
Eugene
Dromm
Rose
King
CIVIL SERVICE & LABOR
Miller, Chair
Crowley
Dromm
Constantinides
Cornegy
Community Development
Arroyo, Chair
Palma
Crowley
King
Gibson
Maisel
Rosenthal
Consumer Affairs
Espinal, Chair
Gentile
Ferreras
Koslowitz
Lancman
Contracts
Rosenthal, Chair
Koo
Wills
Constantinides
Deutsch
Johnson
Miller
Cultural Affairs, Libraries and International Intergroup Relations
Van Bramer, Chair
Crowley
Ferreras
Koo
Levin
King
Constantinides
Cumbo
Rosenthal
Economic Development
Garodnick, Chair
Gentile
Ferreras
Koslowitz
Weprin
Wills
Richards
Barron
Miller
Education
Dromm, Chair
Gentile
Garodnick
Chin
Levin
Rose
Weprin
Williams
King
Barron
Deutsch
Levine
Maisel
Reynoso
Treyger
Environmental Protection
Richards, Chair
Levin
Constantinides
Lancman
Ulrich
Finance
Ferreras, Chair
Rodriguez
Van Bramer
Gibson
Cornegy
Cumbo
Johnson
Levine
Miller
Rosenthal
Ignizio
Fire and Criminal Justice
Crowley, Chair
Eugene
Cabrera
Lancman
Vallone
General Welfare
Levin, Chair
Palma
Cabrera
Wills
Richards
Gibson
Johnson
Menchaca
Torres
Governmental Operations
Kallos, Chair
Greenfield
Levine
Torres
Matteo
Health
Johnson, Chair
Arroyo
Mendez
Eugene
Koo
Van Bramer
Barron
Cornegy
Espinal
Higher Education
Barron, Chair
Vacca
Cabrera
Williams
Cumbo
Housing and Buildings
Williams, Chair
Mendez
Rodriguez
Koslowitz
Cornegy
Espinal
Levine
Reynoso
Rosenthal
Torres
Ulrich
Immigration
Menchaca, Chair
Eugene
Dromm
Koo
Espinal
Juvenille Justice
Cabrera, Chair
Arroyo
Vacca
Barron
Lancman
Land Use
Greenfield, Chair
Palma
Arroyo
Dickens
Garodnick
Mealy
Mendez
Rodriguez
Koo
Lander
Levin
Weprin
Williams
Richards
Barron
Cohen
Kallos
Reynoso
Torres
Treyger
Ignizio
Mental Health, Developmental Disability, Alcoholism, Drug Abuse and Disability Services
Cohen, Chair
Crowley
Wills
Johnson
Vallone
Oversight and Investigations
Gentile, Chair
Dickens
Dromm
Constantinides
Deutsch
Lancman
Rosenthal
Parks and Recreation
Levine, Chair
Mealy
Cabrera
Van Bramer
Cohen
Maisel
Treyger
Public Housing
Torres, Chair
Mendez
Van Bramer
Richards
Cumbo
Public Safety
Gibson, Chair
Gentile
Vacca
Ferreras
Williams
Cornegy
Deutsch
Espinal
Lancman
Torres
Matteo
Recovery and Resiliency
Treyger, Chair
Mendez
Chin
Richards
Menchaca
Ulrich
Matteo
Rules, Privileges and Elections
Lander, Chair
Dickens
Garodnick
Rodriguez
Chin
Rose
Williams
Espinal
Levine
Ignizio
Mark-Viverito
Sanitation and Solid Waste Management
Reynoso, Chair
King
Gibson
Constantinides
Matteo
Small Business
Cornegy, Chair
Dickens
Eugene
Koo
Koslowitz
Wills
Menchaca
Vallone
Ulrich
Standards and Ethics
Maisel, Chair
Ferreras
Lander
Menchaca
Ignizio
State and Federal Legislation
Koslowitz, Chair
Dickens
Lander
Espinal
Kallos
Maisel
Reynoso
Technology
Vacca, Chair
Palma
Weprin
Greenfield
Matteo
Transportation
Rodriguez, Chair
Garodnick
Vacca
Chin
Levin
Rose
Van Bramer
Weprin
Greenfield
Constantinides
Menchaca
Miller
Reynoso
Veterans
Ulrich, Chair
Cabrera
Cohen
Maisel
Vallone
Waterfronts
Rose, Chair
Garodnick
Deutsch
Johnson
Vallone
Women's Issues
Cumbo, Chair
Mealy
Crowley
Koslowitz
Kallos
Youth Services
Eugene, Chair
Palma
Mealy
Chin
Greenfield
King
Cumbo
LAND USE SUB COMMITTEES
LANDMARKS, PUBLIC SITING & MARITIME USES
Koo, Chair
Palma
Arroyo
Mendez
Levin
Barron
Kallos
PLANNING, DISPOSITIONS & CONCESSIONS
Dickens, Chair
Mealy
Rodriguez
Cohen
Treyger
ZONING & FRANCHISES
Weprin, Chair
Garodnick
Williams
Richards
Reynoso
Torres
Ignizio
SUB COMMITTEES
DRUG ABUSE (MENTAL HEALTH, DEVELOPMENTAL DISABILITY, ALCOHOLISM, DRUG ABUSE & DISABILITY SERVICES)
Wills
LIBRARIES (CULTURAL AFFAIRS, LIBRARIES AND INTERNATIONAL INTERGROUP RELATIONS)
Constantinides
NON-PUBLIC SCHOOLS (EDUCATION)
Deutsch
SENIOR CENTERS (AGING)
Vallone
REBNYBill de BlasioDaniel GarodnickDavid GreenfieldMelissa Mark-ViveritoSteven SpinolaOpinionPoliticsBorough ParkWillets PointNew YorkBrooklynManhattanQueensCity HallThe Insider Blog